You are here
Back to top
Girl in Black and White: The Story of Mary Mildred Williams and the Abolition Movement (Paperback)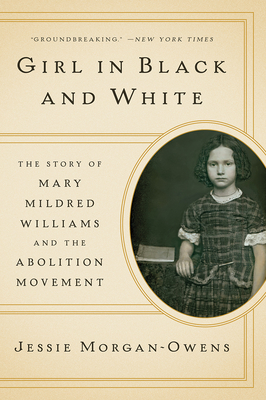 Description
---
An "engrossing narrative history" (Joanna Scutts, The Lily) of the enslaved girl whose photograph transformed the abolition movement.
When a decades-long court battle resulted in her family's freedom in 1855, seven-year-old Mary Mildred Williams unexpectedly became the face of American slavery. Due to generations of sexual violence, Mary's skin was so light she "passed" as white—a fact abolitionist Senator Charles Sumner knew would be the key to his white audience's sympathy. Girl in Black and White restores Mary to her rightful place in history, "probing issues of colorism and racial politics" (New York Times Book Review) that still affect us profoundly today.
About the Author
---
Jessie Morgan-Owens is the dean of studies at Bard Early College in New Orleans, Louisiana. A photographer with the team Morgan & Owens, she received her doctorate from New York University and lives in New Orleans with her family.
Praise For…
---
Groundbreaking.
— New York Times

Mary Williams's story is a long and intricate one, ably untangled by Ms. Morgan-Owens.
— Fergus M. Bordewich - Wall Street Journal

With verve and rigor, Morgan-Owens explores the life of Williams, the relationship between photographs, race, and politics, and looks at the way sexual slavery was not discussed nor written about, leaving holes in archives and stories untold.
— Nina MacLaughlin - Boston Globe

Captivating.… A powerful salute to the memory of Mary Williams, antebellum America's demure symbol of human freedom. Highly recommended.
— Library Journal (starred review)

Morgan-Owens has located a fascinating story and tells it with verve, adding a new dimension to the much-studied struggle against slavery in America.
— Publishers Weekly

A valuable contribution to abolitionist history.
— Kirkus Reviews

In a tour de force of historical recovery, Girl in Black and White combines a compelling, meticulously researched biography of the slave child abolitionists adored (and exploited) with a fascinating history of photography and visual culture. At the same time, Morgan-Owens's careful inquiry into the complexities of so-called white slavery provides a disturbing look at the limits of social sympathy that relies on similarity. This beautifully written book challenges sentimental notions of national progress and offers new ways to patch together the true story of America's racial past.

— Carla Kaplan, author of Miss Anne in Harlem: The White Women of the Black Renaissance

Girl in Black and White tells a mesmerizing story made vivid by the author's keen eye for detail. This is a riveting story of an individual's life, an important biography of an era, and a phenomenal contribution to discussions about the meaning of race in America.

— Emily Bernard, author of Black Is the Body and editor of Remember Me to Harlem