You are here
Back to top
Applying Ifrs for Smes (Paperback)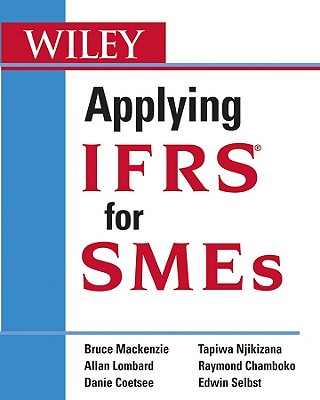 $95.00

Usually Ships in 1-5 Days
Description
---
An invaluable aid to companies and auditors involved in first-time adoption of the new SMEs standard
Applying the IFRS for SMEs provides expert insights and explanations of the International Financial Reporting Standards (IFRS) for small and medium enterprises (SMEs) issued by the International Accounting Standards Board (IASB). This important book includes comprehensive coverage of this recently issued standard aimed at small and medium-sized businesses.
Provides essential coverage for application of IFRS-now a necessity in the accounting world
Includes Foreword by Paul Pacter, Director of Standards for SMEs, IASB
Offers commentary on the theory in the standard, illustrative disclosures, comprehensive illustrative financial statements and comparisons to full IFRS
Includes relevant real life worked out examples aimed at SMEs, plus summaries of important points
The first book on how to apply the new SMEs standard, Applying the IFRS for SMEs is a must-have book for your small or medium-sized business.
About the Author
---
Bruce Mackenzie, CA (SA) FCCA RA, JSE Registered IFRS(R) Advisor, is a member of the IASB SME Implementation Group (SMEIG) and a director of W.consulting (www.wconsulting.co.za), a global IFRS(R) consulting and training company. He has held positions at Deloitte both in South Africa and the United Kingdom in the IFRS(R) Centers of Excellence. Allan Lombard, CA (SA) RA, is an independent IFRS(R) consultant and has worked previously for KPMG as audit manager. Danie Coetsee, CA (SA), is Professor of Accounting at the University of Johannesburg, specializing in financial accounting. Tapiwa Njikizana, CA (SA), RA, JSE Registered IFRS(R) Advisor, is a director at W.consulting. After qualifying with Coopers & Lybrand, he spent time internationally with Ernst & Young and Anderson. Raymond Chamboko, CA (SA), JSE Registered IFRS(R) Advisor, is a director at W.consulting. He was previously with Ernst & Young and SizweNtsalubaVSP where he handled accounting technical issues. Edwin Selbst (SA) RA, is the technical partner for Horwath South Africa, a member of Crowe Horwath International