You are here
Back to top
Shipping Container Homes: Shipping Container Homes for Beginners: The Ultimate Guide to Shipping Container Home Plans and Designs (Paperback)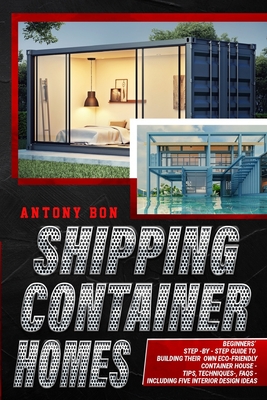 $24.17

Usually Ships in 1-5 Days
This book is non-returnable.
Description
---
If You're Looking to Build a Durable and Affordable Shipping Container Home That You Can Travel With The EASIEST Way Possible, Then This Guide is For You - Complete With Tips, Blueprints, & Plans
Have you always dreamt of owning your own home but just can't afford the listings that you like?
Are you looking for more affordable housing options that won't put you in debt?
Is building your home yourself on your mind but don't know the first thing about it?
If you said YES to any of the questions above, then "Shipping Container Homes for Beginners" is for you
The conventional housing market is becoming more expensive by the year. Not to mention how the system simply just doesn't accommodate people with limited income.
Well, you can forget about that suburban home with white picket fences and look toward a more revolutionary housing option - shipping container homes
You read that right
Shipping container homes has become the next best thing for people who are looking to go beyond the challenges and limitations of owning a conventional home.
With shipping container homes, people like you can enjoy and own the durable, highly customizable, and affordable house you've always wanted.
What's more... you can take it anywhere you want to go
And the best part?
You can build it yourself - especially if you have "Shipping Container Homes for Beginners" at your disposal.
In this innovative beginners guide to building shipping container homes, you will:
Minimize confusion over legal and technical details with the help of a comprehensive list of all the laws and permits you need to prepare for.
Design the home of your dreams with the help of creative shipping container home designs that align with your taste and esthetics.
Avoid construction challenges and ensure a smooth building experience with insights on site preparation and planning.
Take advantage of building plans, blueprints, and interior design ideas that help make your design and building process as smooth as possible.
Ensure that everything is taken care of - from installing insulation, managing condensation, choosing floorings, and more.
Create a truly mobile abode that you can take anywhere in the country using expert tips on how to build a fully off-the-grid-ready shipping container home.
And so much more
As with anything, it's easy to get overwhelmed and lost in the confusion.
But, with "Shipping Container Homes for Beginners" as your go-to guide, you will be able to build the shipping container home you've always wanted - the easiest way possible