You are here
Back to top
Let's Review Regents: Physics--The Physical Setting Revised Edition (Barron's Regents NY) (Paperback)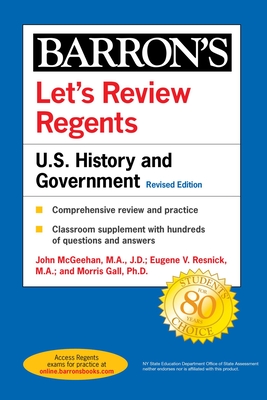 $16.99

Usually Ships in 1-5 Days
Description
---
Barron's Let's Review Regents: Physics gives students the step-by-step review and practice they need to prepare for the Regents exam. This updated edition is an ideal companion to high school textbooks and covers all Physics topics prescribed by the New York State Board of Regents.
This edition includes one recently-administered Physics Regents Exam and provides in-depth review of all topics on the test, including:
Motion in one dimension
Forces and Newton's laws
Vector quantities and their applications
Circular motion and gravitation
Momentum and its conservation
Work and energy
Properties of matter
Static electricity, electric current and circuits
Magnetism and electromagnetism
Waves and sound
Light and geometric optics
Solid-state physics
Modern physics from Planck's hypothesis to Einstein's special theory of relativity
Nuclear energy
Looking for additional review? Check out Barron's
Physics Power Pack 
two-volume set, which includes
Regents Exams and Answers: Physics
 in addition to
Let's Review Regents: Physics
.
About the Author
---
About the Publisher
In the 1930s, Manuel H. Barron opened a bookstore in Brooklyn, New York. 

People from the community asked Mr. Barron about books that might be available to help their children study for the New York State Regents exams. After realizing there wasn't anything available, Mr. Barron created his own study guides.

80 years later, Barron's has helped millions of people prepare for their next step.